Emuna Beams
Announcements and Evemts
Episodes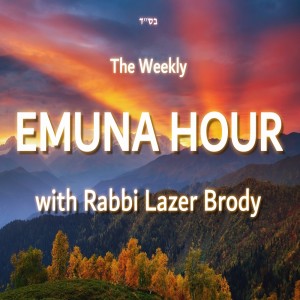 Monday Oct 19, 2020
Monday Oct 19, 2020
Ask anyone you like, Jewish or not, if they believe in God. Most people will answer in the affirmative. Now, ask one of the people who told you that they believe in God, what it means to believe in God. Few will give you a clear answer. G-d willing, our new weekly classes on Zoom, entitled "Emuna Hour", will change all that. Join us on Zoom or own Facebook Live every Wednesday at 8:30 PM Israel Time. Here's your personal invitation: Topic: Emuna HourTime: Wednesday, Oct 21, 2020 08:30 PM Jerusalem / 1:30 PM NYCJoin Zoom Meetinghttps://us02web.zoom.us/j/86574581688?pwd=aWR0elVBYmF6K2NnV3RrWTBrNEZ5QT09 Meeting ID: 865 7458 1688Passcode: Emuna1 FB live: facebook.com/lazerbrody or facebook.com/groups/22531953392 Join us!
Wednesday Oct 14, 2020
Wednesday Oct 14, 2020
In times of super stress like now, where the pandemic is challenging a person's health, income and state of mind, it's so very important to set aside a weekly hour for the soul.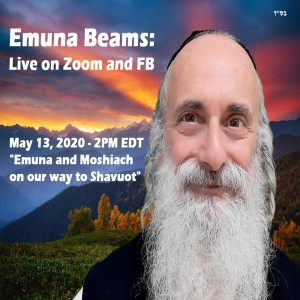 Wednesday May 13, 2020
Wednesday May 13, 2020
Don't miss today's live shiur!